Located on the South-Eastern coast of Spain, Mijas belongs to the region of Costa del Sol Occidental. Its centre is a typical Andalusian white-washed village, located on a mountainside about 430 metres above sea level, in the heart of the Costa del Sol region.
The municipality includes: Mijas Pueblo (the hillside village), Mijas Costa (the main commercial and residential area adjacent to, but not part of, Fuengirola), La Cala de Mijas (a separate village and small resort by the sea to the west) , Las Lagunas (a largely suburban and mixed commercial area to the north of Fuengirola), Mijas Golf, La Sierrzuela, El Coto, , La Alqueria, Valtocado, El Hornillo, Entrerios, Torrenueva, Riviera and Calahonda.
The economy of Mijas is primarily based on tourism, featuring local historical museums and many souvenir shops. The municipality has eleven golf courses, including the La Cala Resort, which is the biggest golf resort in Spain; Calanova Golf, La Noria Golf, La Siesta Golf, Mijas Golf, etc.
Mijas's livelihood was mainly agriculture, fishing, and some farming and mineral extraction. Agricultural products include potatoes, cereals, and avocados. Grape vines were the main source of wealth in Mijas until the Philloxera plague destroyed all of the vineyards. Also important to Mijas's economy was paper production. Some mills located in the area of Osunillas date back to 1744.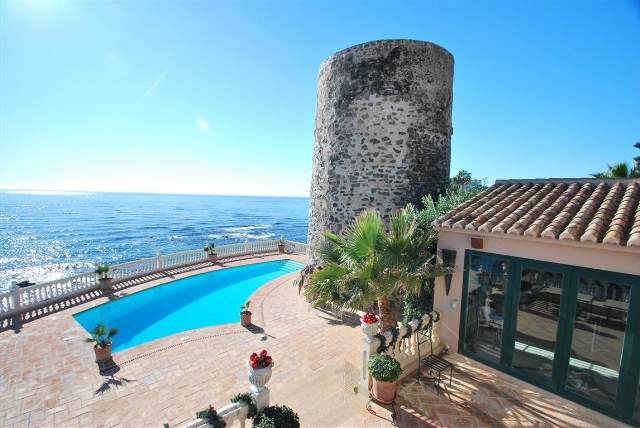 The climate of Mijas, due to its proximity to the sea, enjoys semi-tropical temperatures with winter days being mostly warm/hot and agreeable, and days of hot/very hot weather from May until October. The months of July and August are very hot with temperatures at the end of July and early August hovering around 40°C. The rainfall is below 600 millilitres per year and occurs mainly between October and April. The town boasts some 2,920 hours of sunshine per year.